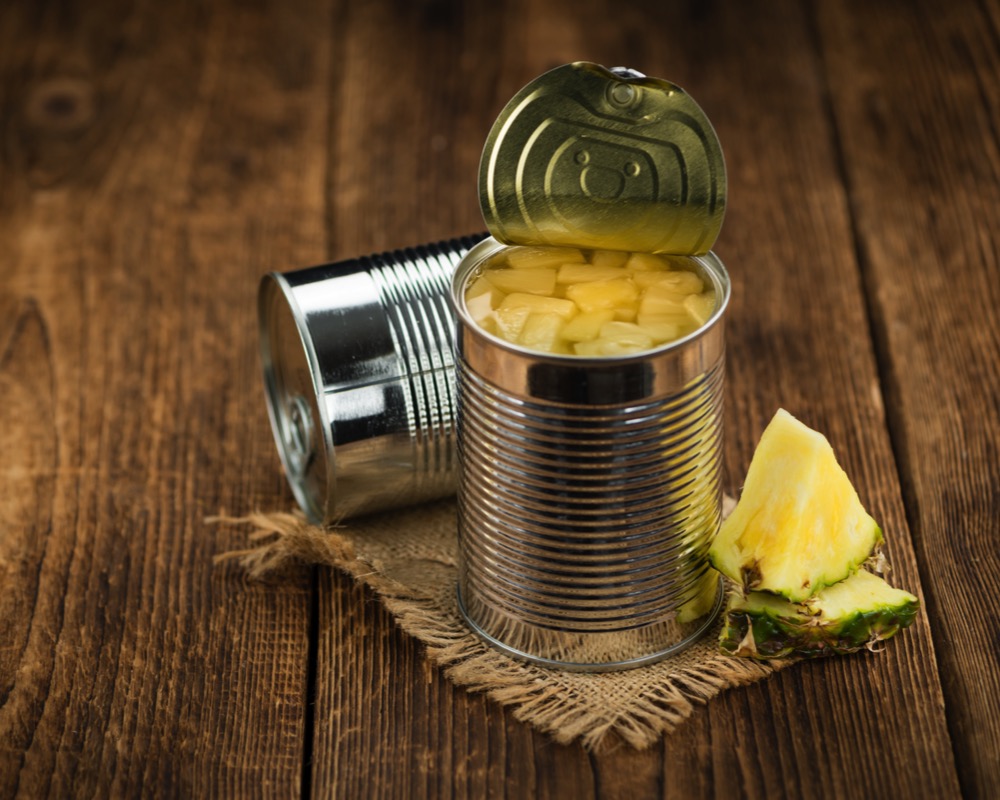 Get more activities
8 New Ways to Use Canned Veggies and Fruits
Canned corn in breakfast fritters.
Corn has long been a staple ingredient in muffins, breads, and other soft, carby breakfast items. Next time, try changing your morning meal and use those kernels in savory skillet fritters for a brunch that goes great with crispy bacon or Canadian ham.
Canned pears in oatmeal.
The natural juiciness of canned pears is a great way to add sweetness to hot cereal without relying on added sugar. Cook up some regular or steel-cut oats, then swap chopped canned pears for fresh in this nourishing breakfast for one.
Canned mandarins in a meaty salad.
Sure, these delicate citrus fruits taste great in sweet dishes like yogurt parfait. But canned mandarin oranges deserve a spot on your dinner plate, too. Try them tossed with raw shredded Brussels sprouts for a slaw-like side, or add them to mixed greens with crumbled feta cheese, toasted sliced almonds, and a light vinaigrette. This filling mandarin-steak salad is a meal unto itself.
Canned pumpkin in mac and cheese.
Pumpkin has a well-deserved reputation as a hero ingredient in pies and pancakes. It's also a fabulous addition to a perennial family favorite: macaroni and cheese. The creamy puree stands in for some of the usual dairy while delivering a nice dose of fiber and vitamins A and K. Here's a kid-friendly version of mac and cheese you can make in a donut or muffin tin. (Just be sure to use plain pureed pumpkin, not a pie mix containing added sugar and seasonings.)
Canned pineapple in jerk chicken.
Pineapple makes a super ingredient for stew-like slow cooker recipes—as the fruit breaks down, it naturally thickens the sauce. In this spicy Jamaican specialty, pineapple perfectly balances the heat.
Canned mango in homemade salsa.
Tropical fruit salsa can elevate a basic baked chicken breast into something special. After draining, roughly chop canned mango and toss with canned diced tomatoes, chopped shallot or onion, fresh mint or cilantro, lemon or lime juice, and—if you like some heat—minced jalapeño. Here's a salsa recipe you can follow; just sub in canned mango for fresh and spoon the stuff on everything.
Canned crushed tomatoes in an all-purpose marinara.
Making your own tomato sauce doesn't have to mean hours of stovetop stirring. All it takes is 25 minutes to whip up this rich-tasting rendition. It's great with pasta, of course, and also fabulous as a base for Middle Eastern-style shakshouka.
Canned beets in hummus.
These purple beauties retain almost as much flavor as their home-roasted counterparts, which makes them a convenient and delicious addition to soup, salads, and more. They're also super creamy when pureed. Use canned beets to add earthy flavor and an unexpected hue to homemade hummus.
--
Leslie Fink, MS, RD, has worked on the WW editorial team for over 21 years. She plays a key role in food, recipes, program content, product partnerships, and experiences.
Get more activities