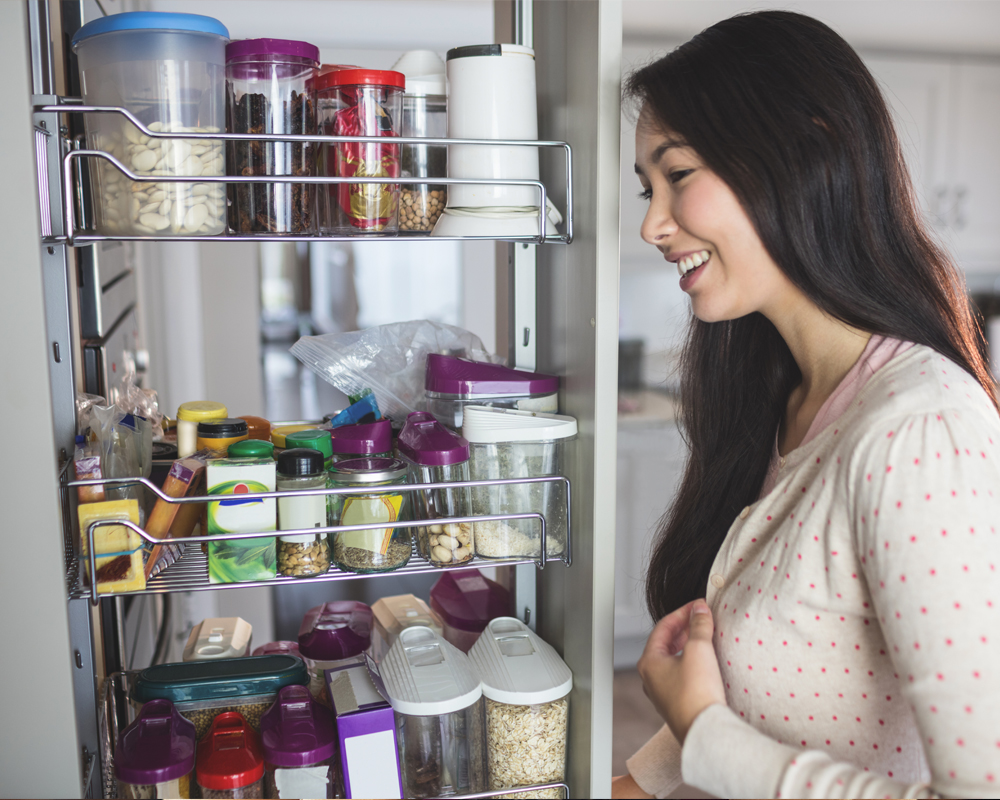 Get more activities
Healthy-Pantry Staples
Stock your pantry with these foods and you'll have everything you need for mealtime success right at your fingertips.
Convenience foods
Canned garbanzo, black, pinto, kidney, and cannellini beans: Like soup, these can contain loads of sodium. Go for no-salt-added beans when possible.
Low-sodium canned soup, chicken, and vegetable broth: Standard versions can be sodium bombs. Reach for reduced-sodium varieties.
Marinara sauce, canned plum tomatoes, and tomato juice: Tomato products can pack a surprising amount of sodium. Compare brands by looking at the Nutrition Facts panel and ingredient lists.
Red lentils: The ultimate fast food, these little legumes cook in just 15 minutes.
Peanut, almond, and sunflower butter: Seek out varieties that are free of added sugar, hydrogenated oils, and palm oil.
Canned salmon, tuna, sardines, and anchovies: Loaded with beneficial omega-3 fats, canned fish is one of the most underrated healthy foods. Choose water-packed versions when possible.
Snacks
Dried fruit: Divide into ¼-cup servings and store in snack-size plastic bags for portion-controlled nibbling on-the-go.
Nuts (all kinds!): Store nuts in a tightly closed jar or container, as their delicate fats tend to spoil quickly. After a couple of months, transfer them to the fridge where they'll stay fresh for up to a year.
Pumpkin and sunflower seeds: A protein-packed alternative to nuts. Store them the same way you would nuts.
Popcorn kernels: Popcorn is a whole grain! Air pop it and you can munch on 3 full cups for less than 100 calories.
Whole-grain crackers: Seek out brands with at least 3 grams of fiber and less than 150 calories per serving.
Grains
Whole-wheat and white flour
Whole-grain cereal: Look for lightly sweetened brands with a minimum of 5 g of filling fiber and no more than 8 g of sugar per serving.
Old-fashioned oats: Sure, these cholesterol-lowering grains are great for breakfast. They're also a smart swap for breadcrumbs in meatloaf, meatballs, and salmon cakes
Quinoa, brown rice, barley, and bulgur: People who regularly eat whole grains tend to weigh less than those who don't. Whip these up as a side dish or sprinkle them into salads and soup.
Polenta: Top this quick-cooking whole grain with marinara sauce for a speedy weeknight meal.
Whole-wheat and semolina pasta: Whole-wheat pasta is best, but regular semolina pasta is no slouch either. Each 2-ounce serving offers up 2 g of fiber and 7 g of protein. Plus, it's enriched with iron and folate, which may help you feel less tired.
Whole-wheat bread: Look for brands with fewer than 100 calories per slice.
Panko: These crunchy Japanese breadcrumbs sport nearly one-third the calories of the traditional kind.
Condiments and cooking oils
Salsa: It's a no-brainer for dialing up flavor in eggs, tacos, chicken and fish—and it has only 5 calories per tablespoon and 0 PersonalPoints™.
Hot sauce and sriracha
Tahini: Try it as a dip for raw veggies or whisk it with lemon juice for a healthier spin on salad dressing.
Canola and olive oils: These heart-friendly oils deliver beneficial monounsaturated and omega-3 fats.
Mayonnaise: Look for brands made with canola oil for an omega-3 fatty acid boost.
Red wine, white, balsamic, apple cider, and rice wine vinegars: Worth 0 PersonalPoints, these pantry staples can be used to flavor a salad or zoodles.
Reduced-sodium soy sauce
Dijon and yellow mustard
Ketchup
Worcestershire sauce
Capers
Drinks
Sparkling water
Coffee
Black, green, and herbal tea
Spices and sweeteners
Kosher salt: Thanks to its big, fluffy flakes, kosher salt delivers nearly 20 percent less sodium than table salt.
Chili powder, curry powder, garlic powder, cumin, black pepper, dried basil, thyme, oregano, and rosemary: These add a calorie-free kick to your favorite foods.
Sesame seeds: 2 tablespoons give you as much calcium as half a cup of milk. Sprinkle them over cucumber salad or Asian noodles.
Sugar, brown sugar, maple syrup, and honey: Use these sparingly to sweeten hot cereal, plain yogurt, and whole-grain muffins.
When Cravings Hit
Crackers that don't list whole grains as the first ingredient
Flavored instant oatmeal and cereals with more than 8 g sugar per serving
Boxed macaroni and cheese
Chips and pretzels
Granola and granola bars
Trail mix
Coconut oil
Sugar-sweetened soda, iced tea, energy drinks, and sports drinks
Coffee creamer
Get more activities