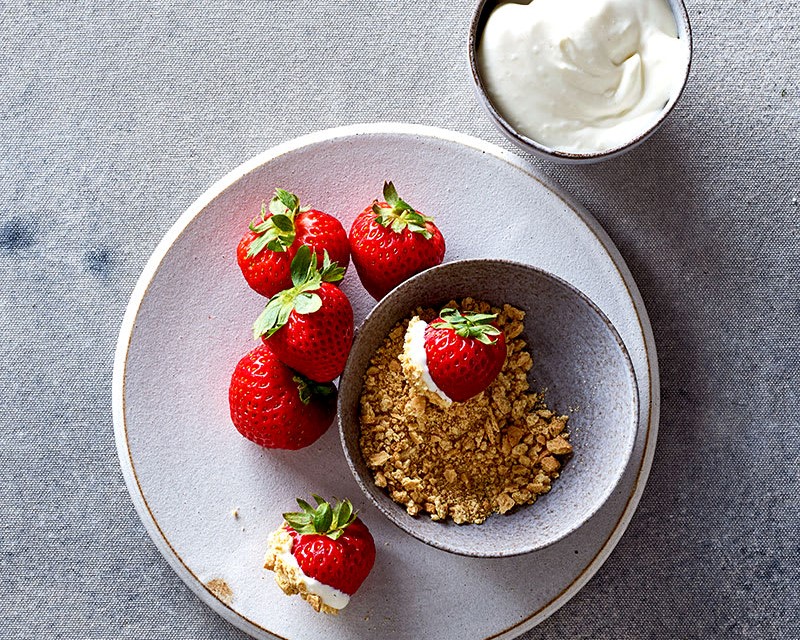 Get more recipes
Deconstructed Strawberry Cheesecake
5-6
PersonalPoints™ per serving
Total 10 min
Prep 10 min
Cook 0 min
Serves 1
Ingredients:
Plain fat free Greek yogurt

2 Tbsp

Low fat cream cheese

1¾ Tbsp

Powdered sugar (confectioner's)

¾ tsp

Vanilla extract

¼ tsp

Lemon zest

¼ tsp, finely grated

Strawberries

6 medium

Graham cracker crumbs

4 tsp
Instructions:
Combine yogurt, cream cheese, sugar, vanilla extract, and lemon zest in a small cup.
Using a toothpick or small skewer, dip strawberries into cream cheese mixture, then crumbs.
Serving size: Makes 1 serving.
Deconstructed Strawberry Cheesecake
Weight Watchers
0 Minutes
10 Minutes
Delicious and decadent...when you're wanting something sweet and rich, this 5-6 PersonalPoints recipe delivers all the cheesecake goodness you crave without the hassle of baking or chilling time.
snack, dessert
Get more recipes