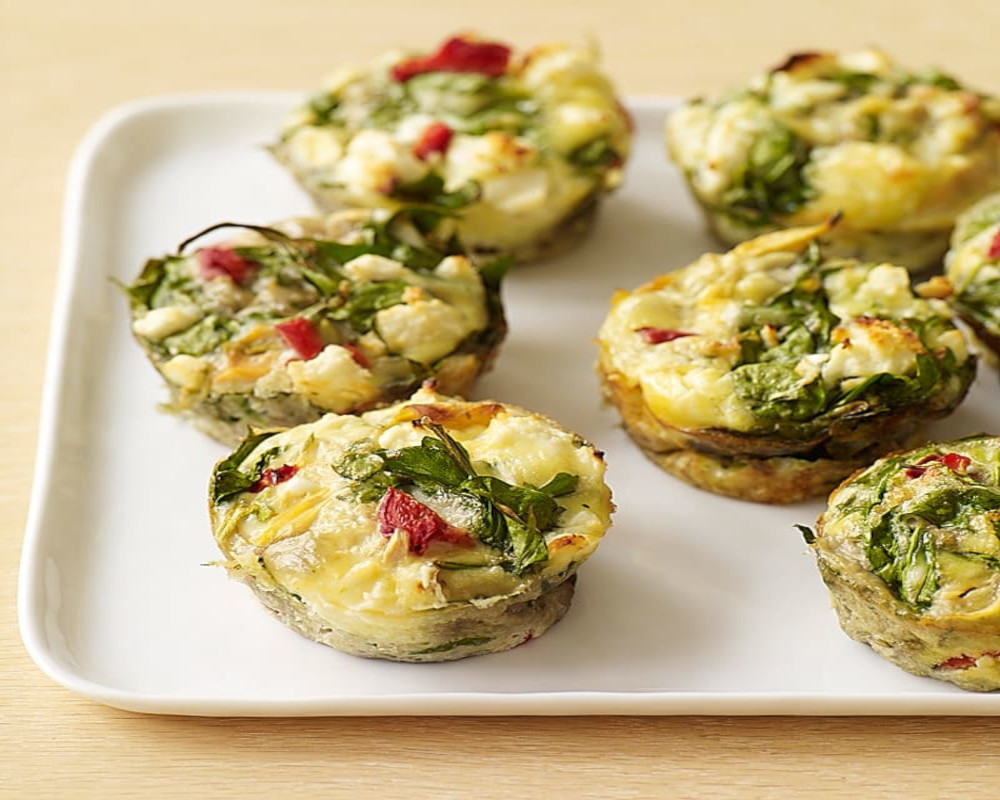 Get more recipes
Feta and Vegetable Frittatas
Total 37 min
Prep 15 min
Cook 22 min
Serves 16
Ingredients:
Cooking spray

4 spray(s)

Egg(s)

6 large egg(s)

Egg white(s)

4 large

Water

½ cup(s)

Table salt

¼ tsp

Black pepper

¼ tsp, freshly ground

Fresh spinach

2 cup(s), baby leaves, coarsely chopped

Canned artichoke hearts without oil

1 cup(s), cut in chunks (or frozen, cooked artichoke hearts)

Crumbled feta cheese

1 cup(s)

Roasted red peppers (packed in water)

½ cup(s), chopped

Uncooked scallion(s)

½ cup(s), sliced

Low fat cream cheese

¼ cup(s), at room temperature
Instructions:
Preheat oven to 350°F. Coat two 8-hole muffin pans with cooking spray (or use one 12-hole pan and four holes from another muffin pan).
In a medium bowl, beat eggs, egg whites, water, salt and pepper until blended. Stir in spinach, artichoke hearts, feta, roasted peppers, scallions and cream cheese; mix well.
Spoon about 1/4-cup egg mixture into each prepared muffin hole. Bake until just set, about 18 to 22 minutes. Cool in pans on a wire rack for 5 minutes. Loosen edges of frittatas with a rubber spatula, sliding spatula underneath frittatas to loosen bottoms and lift frittatas out of pans; serve.
Serving size: Yields 1 frittata per serving.
Feta and Vegetable Frittatas
Weight Watchers
22 min
15 min
An incredibly easy breakfast entrée, these 2 Point mini frittatas are pretty on the plate
breakfast, brunch
Get more recipes