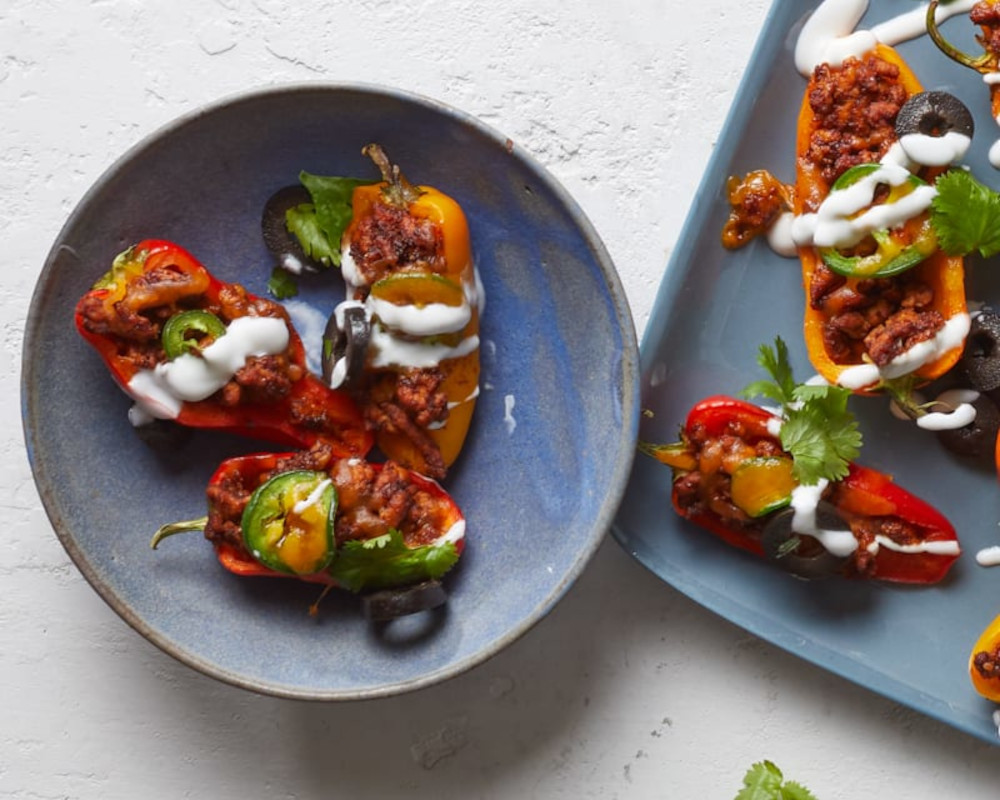 Get more recipes
Bell Pepper Nachos
Total 50 min
Prep 20 min
Cook 30 min
Serves 6
Ingredients:
Chili powder

1½ Tbsp

Ground cumin

2 tsp

Paprika

1 tsp

Table salt

1 tsp

Garlic powder

½ tsp

Onion powder

½ tsp

Dried oregano

½ tsp

Cayenne pepper

¼ tsp

Uncooked 99% fat-free ground turkey breast

12 oz

Water

½ cup(s)

Apple cider vinegar

1 Tbsp

Unpacked light brown sugar

1½ tsp

Sweet mini baby bell pepper(s)

21 item(s), halved and seeded

Reduced-fat cheddar cheese

1¼ cup(s), shredded, sharp variety

Jalapeño pepper(s)

2 small, thinly sliced (optional)

Large canned ripe black olive(s)

8 olive(s), thinly sliced

Light sour cream

¼ cup(s)

Cilantro

4 Tbsp, chopped
Instructions:
Preheat oven to 425°F. Line a large-rimmed baking pan with parchment paper.
To make turkey seasoning, in a small bowl, mix together chili powder, cumin, paprika, salt, garlic powder, onion powder, oregano, and cayenne (or swap in taco seasoning); set aside.
Place turkey in a large nonstick skillet over medium heat; cook, breaking apart meat with the back of a spoon, until no longer pink, 4-5 minutes. Sprinkle turkey with seasoning mixture and stir in water; reduce heat to medium-low and simmer, stirring occasionally, until most of the liquid is absorbed, 5-10 minutes. Stir in vinegar and sugar; simmer for 2-3 minutes more.
Arrange pepper halves, cut side up, in a single layer on the prepared pan.
Evenly divide the turkey mixture among peppers and sprinkle with cheese; top with jalapeno slices, if using.
Bake until heated through, and cheese is melted, 8-10 minutes.
Remove from oven; top with olives, sour cream, and cilantro. Serve immediately.
Serving size: 7 nachos
Bell Pepper Nachos
Weight Watchers
30 min
20 min
Check out this 4 Point(s) twist on classic nachos made with bell peppers and ground turkey.
lunch, dinner, snack
Get more recipes