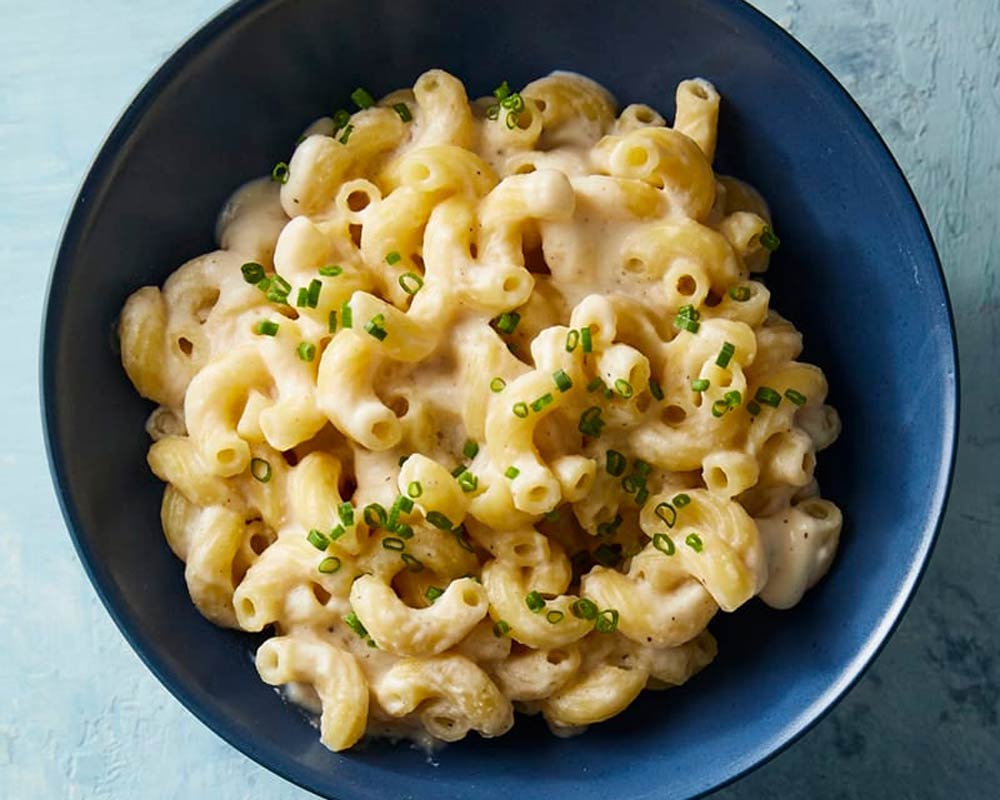 Get more recipes
Creamy Alfredo Mac and Cheese
6
PersonalPoints™ per serving
Total 30 min
Prep 15 min
Cook 15 min
Serves 6
Ingredients:
Cooking spray

5 spray(s)

Uncooked elbow macaroni

8 oz, about 2 cups

Uncooked cauliflower rice

12 oz, about 3½ cups (or defrosted frozen cauliflower rice)

Garlic clove(s)

3 medium clove(s)

Fat free evaporated milk

1 cup(s)

Kosher salt

¾ tsp

Black pepper

¼ tsp

Grated Parmesan cheese

½ cup(s)

Chives

1 tsp, chopped, or other herbs and/or chopped scallions (optional), for serving
Instructions:
Bring a large saucepan of water to a boil. Cook the pasta until tender, about 9 minutes. Drain the pasta.
Meanwhile, coat a large nonstick skillet with cooking spray and heat over medium-high. Add the cauliflower and garlic and cook, stirring frequently, until tender, about 4 minutes. Scrape the cauliflower mixture into a blender. Add the milk, salt, and black pepper and blend until smooth. Add the cheese and continue to blend until the sauce is well combined.
In the same skillet, combine the pasta and sauce and stir to coat. Cook over medium heat until heated through, about 3 minutes. Garnish with the chives and scallions (if using).
Serving size: a scant 1 cup
Creamy Alfredo Mac and Cheese
Weight Watchers
15 Minutes
15 Minutes
This Mac and Cheese recipe uses puréed cauliflower to add a rich body to this sauce without a speck of cream or butter.
lunch, dinner
Get more recipes