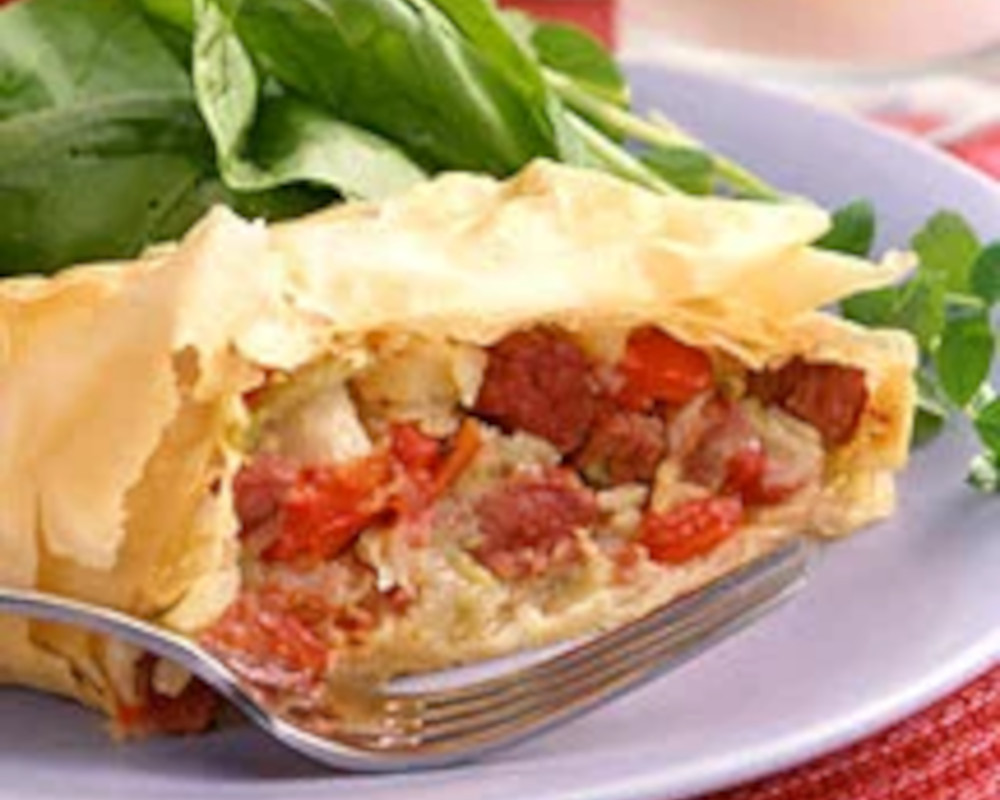 Get more recipes
Corned Beef and Cabbage Strudel
Total 1 hr 3 min
Prep 25 min
Cook 38 min
Serves 4
Ingredients:
Uncooked cabbage (all varieties)

4 cup(s), chopped, shredded

Garlic

1 medium clove(s), peeled and minced

Canned chicken broth

½ cup(s)

Frozen potatoes O'Brien

2 cup(s), thawed (potato, onion and red pepper)

Table salt

½ tsp

Black pepper

¼ tsp

Dried thyme

¼ tsp

Caraway seeds

½ tsp

Bay leaf

1 leaf/leaves

Lemon zest

2 Tbsp

Uncooked corned beef brisket

½ pound(s), cooked and diced

Wheat phyllo dough

4 sheet(s)

Mustard

½ cup(s)
Instructions:
Heat a 10-inch nonstick skillet over medium heat. Add cabbage, garlic, and broth. Sauté until cabbage is limp, frequently stirring, about 3 minutes.
Stir in potatoes O'Brien, salt, pepper, thyme, caraway seed, and bay leaf. Cook until potatoes are hot, about 5 minutes. Stir in lemon zest and corned beef. Remove the bay leaf. Remove from heat and cool mixture while preparing phyllo dough.
Line a baking sheet with parchment paper. Place one sheet of phyllo dough, long-side facing you, on paper. Spray with cooking spray. Add a second sheet of dough. Spray with cooking spray. Repeat twice more.
Preheat oven to 350°F.
Spoon corned beef filling across the width of the dough, starting 4 inches from the bottom of the dough. Mound filling into a 4-inch-wide strip. Lift the bottom 4 inches of dough to cover the filling. Using parchment paper as a guide, gently roll up phyllo dough. Place seam-side down on a paper-lined cookie sheet. The ends of the dough don't have to be tucked in. Spray strudel with cooking spray.
Bake until phyllo is browned 30 minutes. Let sit for 5 minutes. Cut into 4 slices and serve each with 2 tablespoons mustard.
Corned Beef and Cabbage Strudel
Weight Watchers
38 min
25 min
This 7 Point twist on the traditional St. Patrick's Day menu of cabbage, potatoes and corned beef is a savory delight.
dinner
Get more recipes